Midway Ford Proudly Celebrates
More Than 50 Years Of Service
Where we are today: Midway Ford Truck Center, Inc.'s main location in Kansas City, Missouri is just south of Worlds of Fun on I-435 & MO 210 Highway. Founded in 1961, Midway is entirely employee owned. As owners of their Company, Midway's employees have a vested interest in ensuring customer satisfaction. As a consequence, Midway has empowered its employee owners to 'make customers happy' and this philosophy has worked well. It has helped create loyalty among its employees and superior relationships with customers.
Midway U.S.A, Inc., d/b/a Midway Collision Center, is a majority-owned subsidiary of Midway Ford which operates a body, frame, front-end, and paint shop. This subsidiary is operated as a separate business, with the general manager having a minority ownership interest. It expanded its operations during 2005 by purchasing and moving to a newly refurbished location at 3420 Gardner in Kansas City, Missouri. This facility has incorporated state-of-the-art equipment to better serve the needs of the Collision Center's customers.
Midway Management believes that honest relationships, quality products, services and business integrity practiced by Midway will bring long-term success. Midway people make the difference. Midway is proud of its mission statement which states: "Our primary business purpose is to serve our customers so well that they remain loyal to Midway." We exceed customer expectations.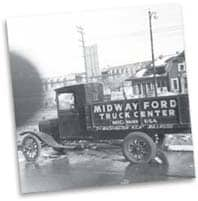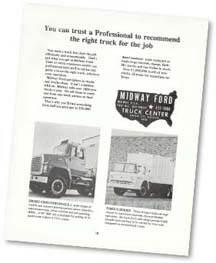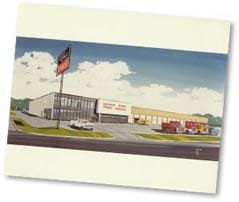 How we got here:Founded in 1961, Midway Ford Truck Center, Inc. was Ford Motor Company's first Ford truck-only dealership in the nation. Started as a wholly owned subsidiary of Ford Motor Company, with Mr. Dean Edwards as General Manager and 17 other employees, Midway was located in downtown Kansas City. n 1965, Mr. Edwards purchased the dealership from Ford Motor Company and under his leadership Midway prospered. By 1974 the dealership had expanded into 4 additional locations. Midway's main facility relocated to its present location in Northeast Kansas City in 1975.
Our Leadership: Mr. Edwards recognized that the rapid growth of Midway required additional leadership, and added Mr. Don Ahnger to his team. Mr. Ahnger's previous experience in public accounting and as a financial manager for a Ford dealership in Texas earned him the position as a financial manager for Midway Ford. Mr. Ahnger was promoted to CEO when Mr. Edwards retired. Mr. Edwards continued on as a consultant to Midway until his death in 2007.

Mr. Wiley (Trey) Meyer was hired in 1991 as Midway's Technology Manager. Mr. Meyer had worked part time during his college years in Midway's service department. In March of 2009, Mr. Meyer was promoted to President of Midway Ford Truck Center.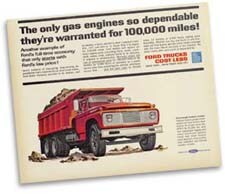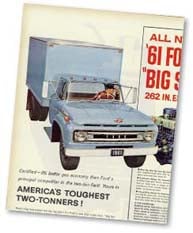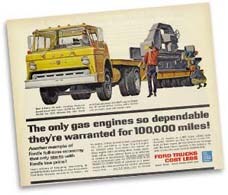 Midway Ford is the proud recipient of Ford Motor Company's highest form of dealer recognition, the President's Award. This Award is presented to only two percent of all Ford dealers and is based on customer satisfaction. It is a product of Midway's commitment to both its customers and employees. Midway has won this Award fifteen years in a row and eighteen years in total! Midway is also very proud of its accomplishment as a former Triple Crown Winner - received by only a few of the 4000 Ford Dealers in the United States. To be a Triple Crown Winner, a dealership must have been selected to the "Top 100" dealer group for the highest vehicle sales; it must be in the Top 100 in parts sales, and must have been recognized as a President's Award winner.
For the year of 2014 we received several recognitions:

? The Ford 100 Club as the #1 Dealer in medium duty truck sales with an all-time record of 1,973 sold in 2014. We have won this award 22 out of the last 23 years.

? We also qualified for the Top 100 Award on major fleet sales.We were 3rd in the nation with 9,275 units sold.
? In BPN sales we were 3rd also with 5,249 units sold.
? We again won the 2014 Business Preferred Top 25 Dealer Award.We were number one in the nation in total commercial contracts with Ford Credit.
? And for the second time ever we won the Ford Partners in Quality Award. And we were 7th in our group. This is Ford Credit's most prestigious award and pays tribute to dealers who have achieved the highest level of customer satisfaction and loyalty to Ford.
? The First Place finish in the President's Award and the First Place finish for Medium Duty truck sales in the Top 100 Award all qualified us for the One Ford Elite, which is the very best of the best in all Ford's award in 2014.
? Midway Ford Parts Department won three awards this year. The first being the 1,000,000 Dollar Club for Power Stroke diesel Sales for 2014 - the 7th year in a row for this award - 10th nationally. The next award was the Top 50 Award for Volume and Growth in Powerstroke Diesel sales for 2014 and we ranked 13th nationally in that. And the third award is the Award for F650- F750 Medium duty Truck parts. Again it is a volume and growth award. We ranked 4th in that.
Our Pride: Midway Ford has successfully utilized its centralized location in gaining national prominence. Its location has allowed access to many large trucking companies and is a major reason why over 90 percent of Midway Ford's business is commercial. The Company is a leading nationwide vendor of new and used trucks, truck parts, and service. Midway Ford is one of the largest volume Ford auto or truck dealers in the U.S.A.
More About Midway Ford Truck Center | Commercial Ford Truck Dealer Serving Independence MO, Overland Park KS, Ottawa KS and Olathe KS

At Midway Ford Truck Center, we offer a variety of new Ford trucks in Kansas City to our valued customers from all over Missouri. With a large selection of heavy duty and light duty Ford trucks to choose from, it's no wonder why our customers can easily find the Flatbed, Gooseneck, Crane, Forestry, KUV or Box Truck that they have been looking for in the Independence MO, Ottawa KS, Overland Park KS and Olathe, KS area. And if they're not in the market for a upfit vehicle, then they find what they are looking for in our vast inventory of new heavy duty, used heavy duty, new light duty or used light duty Ford in Kansas City. Our sales staff will help you find the commercial truck or van you have been searching for, at a price you can afford. Make sure you don't forget to check out our Kansas City Ford truck incentives because they are always changing and you don't want to miss out on a fantastic deal for your next heavy or light duty truck!
The financial staff at Midway Ford Truck Center have been offering expert advice for customers seeking Light and Heavy Duty truck finance in Kansas City for years. However, our excellent service doesn't end there! Our customers not in the market to purchase a vehicle choose our commercial truck service department in Kansas City because we have the Ford truck parts in Kansas City that they need and the skilled techinicians to do the job right the first time. Give us a call by dialing (888)448-6098, or visit us in person at 7601 NE 38th Street in Kansas City, MO